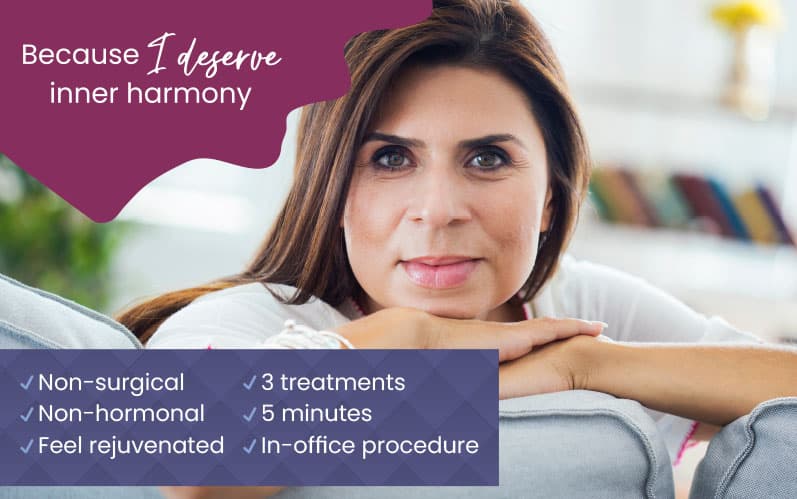 MonaLisa Touch - Anchorage, AK
What is MonaLisa Touch?
MonaLisa Touch is a painless, outpatient laser treatment for gynecological symptoms like painful urination, dryness, itching, burning, lack of arousal and pain during intercourse. MonaLisa Touch is an in-office procedure that is quick and painless—the treatment can be delivered in under 5 minutes, has no downtime, and offers instant, lasting relief.
How does MonaLisa Touch work?
MonaLisa Touch uses a CO2 (carbon dioxide) laser to deliver quick, painless treatment of gynecological symptoms. Using a fractional pattern of laser beams to gently but deeply target the affected tissue, MonaLisa Touch triggers the body's rapid healing response, so patients can feel like themselves again quickly and without downtime.
Who is MonaLisa Touch for?
MonaLisa Touch is a gynecological treatment designed for patients experiencing changes in their vaginal health, like vaginal dryness or itching,  that are disrupting their daily comfort and personal lives. Patients undergoing menopause or receiving treatment for breast cancer are often excellent candidates for MonaLisa Touch, as the gentle, hormone- and chemical-free treatment provides significant relief to symptoms common to those experiences without pain, down-time or surgery.
Are there MonaLisa Touch side effects? Can I return to daily activities after treatment?
MonaLisa touch is a proven, well-tolerated treatment for gynecological health. Like all medical interventions, some side effects may occur, though most are mild to moderate. Possible side effects may include: 
Spotting

Mild vaginal bleeding

Pinpoint bleeding

Pink or brown vaginal discharge

Mild to profuse watery vaginal discharge

Redness

Swelling or inflammation

Tenderness

Itching

Burning with urination

Irritation and/or discomfort
Your physician will talk with you about your suitability to undergo MonaLisa Touch laser treatment and your specific risk factors, if any, prior to selecting the procedure as part of your care plan. 
MonaLisa Touch patients can return to their normal day-to-day activities following treatment, but should refrain from sexual activity for 2-3 days.
Is MonaLisa Touch covered by insurance?
MonaLisa Touch is an elective procedure. Elective procedures are not typically covered by most insurance providers. However, many patients find that the significant relief and associated cost-savings, like an eliminated need for medication and other treatments to manage symptoms, is worth the out-of-pocket spend. Contact our office to learn more about MonaLisa Touch cost and available payment options.
Is there a clinic offering MonaLisa Touch near me?
Denali OB-GYN proudly offers MonaLisa Touch to patients in our Anchorage, AK clinic. Your Denali OB-GYN physician can help provide more information, answer your questions about the procedure, and determine if MonaLisa Touch is the right course of treatment for your needs. Contact us today to schedule an appointment with your provider or request a complimentary consultation.